Dan Rawlings
The Völklingen Ironworks flooded in red light
Copyright: Weltkulturerbe Völklinger Hütte | Oliver Dietze
Dan Rawlings gets to grips with industrial and civilisational relics in order to transform them into filigree fretwork in a labour-intensive, complicated process. He has already perforated saws, cogwheels, metal signs but also larger objects such as delivery vans or industrial silos.
Website: www.Everyact.co.uk
Werke
Joyride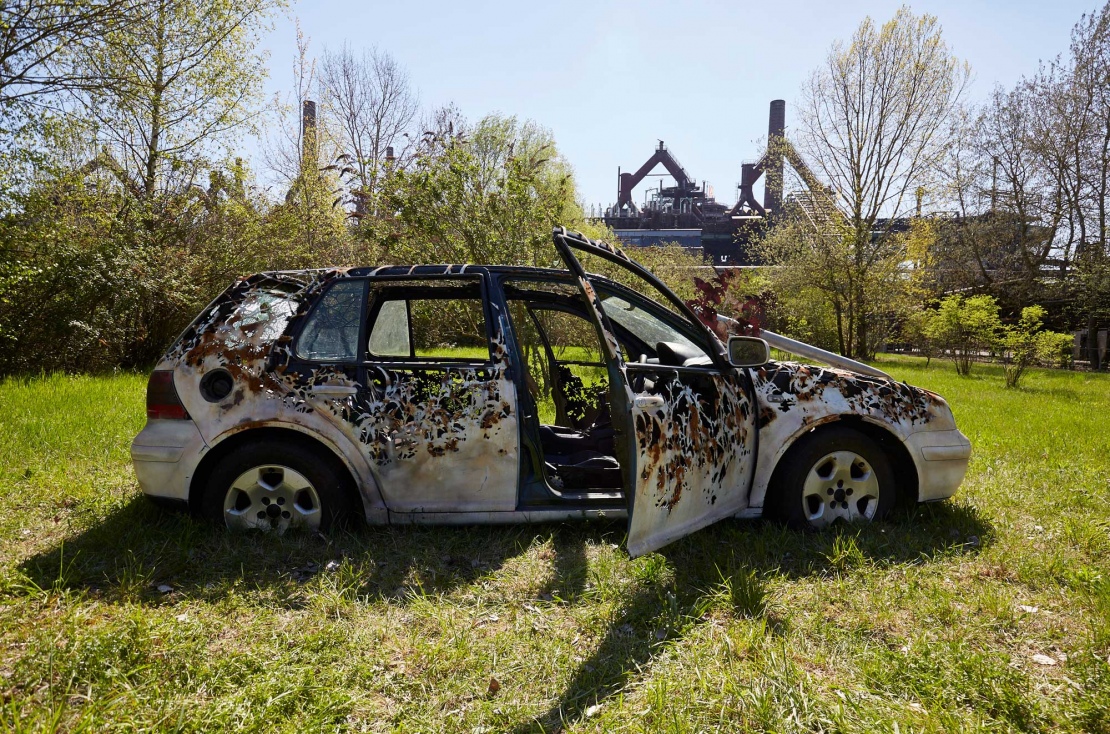 Dan Rawlings Joyride1
Copyright: Weltkulturerbe Völklinger Hütte / Hans-Georg Merkel
Dimensions
150 x 420 x 180 cm
Owner
Courtesy Galerie Openspace, Paris
Description
Dan Rawlings works with industrial and cultural relics, transforming them into intricate fretwork. Through this arduous, complex process, the Gloucestershire-born artist brings poetry back to the ruins of the profane. This approach – one that has much in common with artistic vandalism – creates beauty from destruction. As Rawlings himself explains, he is inspired by "a sympathy for unloved and forgotten relics and a fascination with nature's resilience". His artwork, in the form of the piece Joyride, has found an eminently suitable environment in the natural landscape garden of the Völklingen Ironworks. Here, too, nature is reconquering, to an ever-greater extent, that which was created and shaped by man. The wounds that the "hellish" work once tore in the former coking plant are healing again. Birch trees sprout amidst the rusted facilities, creepers entwine the massive pipes. Wild boars and foxes have also been spotted here. All of which is surely very much in accordance to Dan Rawling's sensibilities!